This month I want to give you a glimpse of the new kids' storybook on which I've been working.
But first, you may have noticed that it's been well over a year since I've released a new storybook, so here's a brief personal update:
Over the past couple of years, due to the deaths of some very close family members, some other family events, as well as the need to pay off some debts, I've been working a "real job" 4 days a week. I feel this is necessary for now in order for Mollie and me to get our financial house in order. Frankly, it's been a nice break from having to generate self-employment income after 15 years of pursuing a fine art career.
The downside is that it's making book production much slower.
Nonetheless, my next storybook, The Friendly City, is well under way. Following is a summary of the story:
The story is about a town called New Burbia. New Burbia is home to the best, safest, and most polite drivers in the world. One of the best things about living in the town is that the citizens drive fun and fanciful cars. Everyone follows the rules of the road and is able to get where they want to go. All of this makes New Burbia a great place to live.
One day a new mayor is elected and he has an idea that will make New Burbia even better. Since New Burbia is home to the best, safest, and most polite drivers in the world, he reasons that there is no need for the road signs and traffic lights in town. (Road signs are for bad drivers.) He has the signs removed and tells the people that they are free to drive how they feel is best. Of course, chaos ensues and the town becomes less friendly.
Eventually, some citizens come together and form The Caring Drivers Group. They commit to remembering the rules of the road and to treating other drivers with patience, respect, and kindness. Even though most drivers don't join them, their presence makes New Burbia a better place to live.
Here are some of the New Burbian cars that were driven before the Mayor's plan was implemented: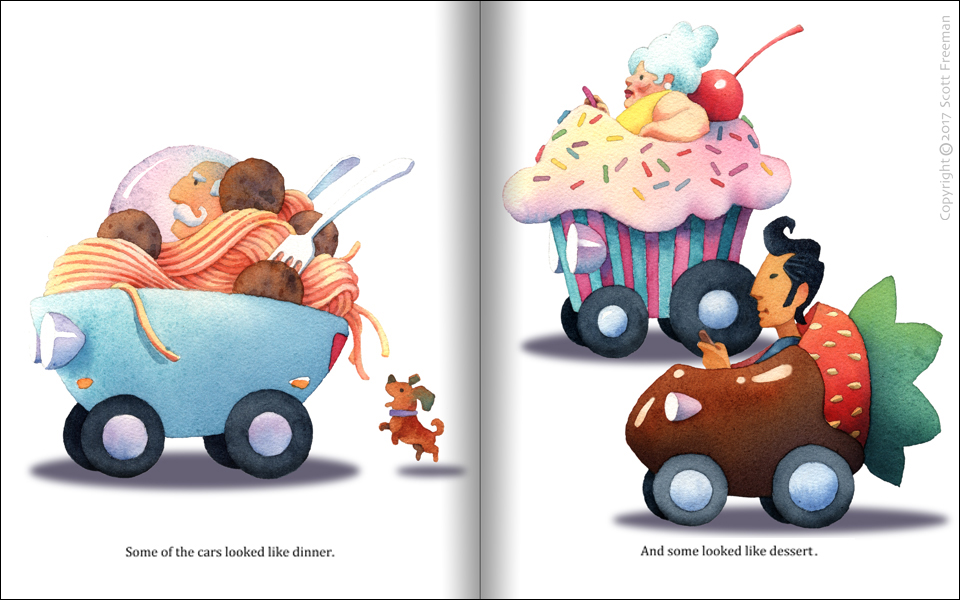 The Caring Drivers Group is a metaphor for the Church. The Church of Jesus exists, in part, to be God's manifestation of His kingdom in the midst of a corrupt age. Rather than attempting to "fix" our broken world, the church exists as a light and an example as we invite people into relational unity with God and His people.
I thought it would fill a need to have a fun storybook that reinforces for kids the idea of a body of people that is not trying to fix the world, or forcibly impose a political or otherwise utopian solution onto society. Rather, we live as "aliens" within a broken culture, creating a subculture of love, caring, and truth, inviting people to join us.
I expect that The Friendly City will be released early next year (2018.) Of course I will keep you posted!
Please share your opinion with me on upcoming books!
I'd love to have your input as to future planned book releases. My plans include:
The Drink – an original metaphorical story about a boy wandering the desert, checking out various water wells as he searches for "the living water" he has heard about. Based on Jesus's description of himself as the living water.
A New Family – a storybook that positively articulates God's design for marriage as described by Jesus. This story is narrated by a little girl who is watching a wedding ceremony.
The Emperor's New Clothes – An updated/revised version of the Hans Christian Andersen fairy tale. I remember how this story made an impression on me as a child, and it remains as relevant as ever in a culture that seeks to pressure children to accept false assertions about life.
An Easter/Passover storybook – Not written yet, but as a parent I found it difficult to find great picture books that celebrate the resurrection of Jesus.
A Kingdom of God storybook – Also not written yet. I would love to do a storybook for kids that explains in simple terms the kingdom of God that Jesus preached. This would include explaining His kingdom parables and other statements about the kingdom.
The Kingdom of Light – (Not to be confused with the previous book) An original story about a stained glass window maker who lived in a dim kingdom. The villagers can't see the beauty of the windows until light shines through them.
I would value your feedback on which of these storybooks you would like to see made available first. Do any of these in particular stand out as being more important to you, or as being more helpful to you as a parent, grandparent, or person of influence?
Please reply in the comment section. Thank you for your input!
Looking for gift ideas for the kids you love? Visit my online BOOK STORE and order before the December deadline!